Welcome to China Prairie Products
Passing the baton . . .
Dear Customers,
Last year my cousin Karen and I worked on a family pictorial album--the type where you do it all online and then they print the books. Karen and I spent time together researching some of the family history along with her daughter, DeeAnna. And during the course of our time together, I mentioned that I needed to find someone to take over the business. And "what to my wondering eyes should appear" DeeAnna was very interested in that proposition.
So over the past year she has been preparing herself to assume the business. It is nice that it stays in the family so to speak. Although I anticipate that she will take it to the next level (SOCIAL MEDIA!) and beyond. She has been to bird shows and fairs, attended avian lectures, visited some of my customers in the Sacramento area and read all the literature and all the notes I have saved from Mr. Bauer. She has come out twice to practice doing the orders, shipping and making the supplements. And will be out again to practice September 15-17. And if you have noticed, she has written several of the articles in the recent newsletters.
DeeAnna is committed to keeping the business in line with Mr. Bauer's original development of the products and committed to continue the high quality he expected. When I went back to Redway last April, DeeAnna came up and we had lunch with him which was nice for both of us.
So the business will close down September 17th and reopen with DeeAnna October 1st. I will be going out to Sacramento by the 1st to help her along with any questions that come up.
So be sure your sprouting needs are covered through October 1st. I will send another reminder towards the end of August. It would help me to have as many orders as possible during the next four weeks.
I will give my farewells at a later date.
Sincerely,
Jackie
Oregon Suet Blocks are now available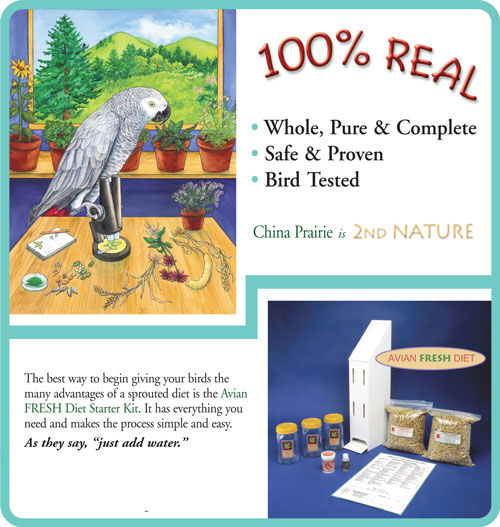 The Avian FRESH Diet Parrot Food Starter Kit
THE BEST WAY TO BEGIN giving your birds the many advantages of a sprouted diet is the Avian FRESH Diet Starter Kit. It has everything you need and makes the process simple and easy. As they say "just add water".
Avian FRESH Diet Parrot Food Starter Kit includes:
Ten pounds Avian FRESH Diet - 5 lbs. each of Psittacine and Micrograin
2 ozs. FRESH Addition-Universal
1 oz. FRESH Stabilizer
Your choice of a black or white SPROUTTOWER
Set of three quart Sprouting Jars
Set of three Deluxe Sprouting Lids
Complete detailed Instructions
Our Customers write...
"Our bird a Rose-Breasted Cockatoo (Galah) born in 1991 developed fat tumors in 2000. We tried different foods, exercises, etc. and many visits to the veterinarian. Finally she had surgery in 2002. She had to wear a collar because most of her feathers in her belly and under were gone. Once again we tried different kinds of foods advised by our vet but it was such a problem.We weighed her every day and sometimes it seemed as we were starving her.She was a very unhappy bird. Feathers started to grow, but every time we removed the collar she would pick at herself and would make a hole. It was so frustrating for both the bird and us. Finally we found Marjorie Ann's food(old China Prairie) in the internet and started her on it. Our bird has been completely free of the collar for the last six months; she walks all over and is a happy bird. She is able to maintain her weight normally and all her feathers are back. This food has made the difference between our Fossey having a miserable life and her new wonderful quality of life as well as her owners who are very happy with her." --S.O.
Common Sense Solutions by Uncommon Means
We have a simple belief that guides everything we produce for aviculture and companion birds:
Provide superior quality, bird-tested, time-proven, economical products that are as close to natural processes as can be practically delivered to your door.
Beginning with knowledge of the birds in their native habitat, and years of experience with birds under human care, we utilize traditional wisdom and the latest technology to create our avian offerings. Each one is conceived to provide a whole solution, without trade-offs, compromises, or health and safety dangers. This goal is achieved by using diverse approaches and the simplicity of natural ways in our diets. Please take a few minutes to review these pages and carefully compare our approach to your bird's well-being to your present practices.

THE RESULTS ARE VERY IMPRESSIVE