Wild Bird Feed Suet Blocks from Oregon Feeder Insects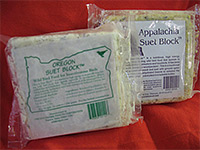 Oregon Feeder Insects designed and introduced the world's first insect based wild bird food, Oregon Suet Block in 1984. From raising the insects (Only insects that have been grown on vegetable diets should be fed to birds!) to rendering the suet in their own facility this company ensures the origin and quality of their products. They use a combination of finely ground and whole insects so that a bird feeding hastily will always get some insect nutrients with each peck.
"To our knowledge OFIC is still the only animal food manufacturer that operates its own commercial insectary. Consequently our products contain a much higher percentage of processed insects. We regard the insect component as the essential ingredient and not an additive enabling a marketing claim. Our other ingredients are all natural down to the refined Rosemary Oil we use as the antioxidant that preserves products freshness. Our packaging and labeling is minimal and sufficient to present and protect the suets. While our suets are more expensive that other brands we have heard for years that our suets out last the others by several times with similar feeding frequency. We do not use perfumes to influence buyers." --Oregon Feeder Insect Corporation
Oregon Suet Block is insect based for feeding insectivorous wild birds. The insects, Musca domestica, the Common Housefly, are grown and processed at the Tillamook, Oregon insectary. Fresh beef kidney suet is rendered and naturally preserved with mixed tocopherols at the plant. These materials are blended with other high quality ingredients. The suet blocks are cast and cut to portion.
Oregon Suet Block
Oregon Suet Block (OSB) is a nutritious, high-energy, economically long lasting wild bird food that appeals especially to woodpeckers, flickers, nuthatches and chickadees. There are hundreds of dry insects per block to bring welcome nutrients to wild birds visiting your backyard. It is reported that it does not attract starlings and is of no interest to squirrels. OSB is suitable for year around use, although in summer; place the hanger deep in shady foliage or in the shade on the north side of the house.
Use:
Unwrap and offer outdoors in an appropriate feeder. 10 oz. OSB fits standard suet cages.
Analysis:
Protein min. 1.1%, Fat min. 98%, Fiber max. 1.5%.
Ingredients:
Rendered beef kidney suet, dehydrated insects (Musca domestica) and mixed tocopherols (a natural preservative).
Oregon Suet Block is the original wild bird food to use insects to provide a nutritional element. OSBTM was compounded upon observation that most suet eating birds are insect eaters. Oregon Feeder Insects Corporation uses only beef kidney suet that they process on site because it has greater density, hardness and more calories per gram than the commonly used tallows. Fully two percent of OSBTM is dehydrated insect. This is by far the highest ratio of insect material to other ingredients to be found in any insect augmented commercial bird food for either wild birds or caged birds. Whole and ground larvae, pupae and adult flies are used in our wild bird foods because the different stages of the insect provide differing nutritional benefits.
Reports from numerous Oregon Suet BlockTM users state that when compared with other suet brands OSBTM receives an equal number of pecks by visiting birds and lasts three to four times as long as the other products. This is important information because OSBTM often costs twice the other brands but is, in the long run, more economical as well as nutritionally superior. When Oregon Suet BlockTM was introduced it was endorsed by John Farrand, Jr., editor of the National Audubon Society's Master's Guide to Birding as " the best new wild bird food on the market in twenty five years".
Oregon Suet Block $5.75 each .......... >Order Now
Oregon Suet Block is a trademarked product of Oregon Feeder Insect Corporation.